ACOUSTIC PICTURES
Sound-absorbing actions: Architecturally interesting, visually appealing and functionally tailored to your wishes.
LUMINATORE® acoustic picture
EACH ROOM IS DIFFERENT, WHAT TO DO?
CHECK YOUR ACOUSTICS ON SITE
If the topic of negative room acoustics comes up, you should honestly answer the following questions as their answers will provide important insights. There are three relevant factors that provide a negative perception of sound and extremely large differences between rooms that are to be optimized for the spoken word or, e.g., for music. One excludes the other as these objectives work in opposite directions. A good example is the auditorium in a school. The principal insists that all students understand him well when he gives a speech and has the auditorium optimized in terms of sound, but the music teachers complain about very bad tone while playing the instruments. Correct, because music needs a different reverberation time than the spoken word.
factor 1: The reverberation time.
factor 2: The path length of the sound.
factor 3: The volume, usually measured in decibels.
The individual factors provide different problems that you should understand and analyse first.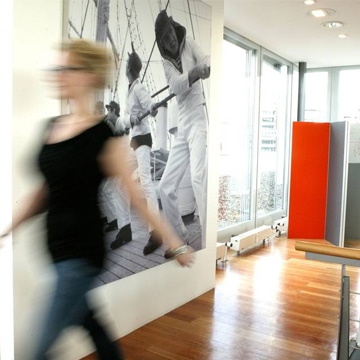 HOW? HERE ARE THE FIRST QUESTIONS:
What kind of noise is disturbing in your environment?
Is this sound a dull deep or shrill high?
How far is the distance the noise is audible?
When you clap your hands, is there a kind of echo or reverberation?
What is the main purpose of the room?
How is the room furnished?
Is the room located in an old building or in a new modern one?
Is it permanently too loud in the room?
FIRST MEASURES, TIPS AND TRICKS
ACTION ALWAYS HELPS
It helps to furnish the rooms and thus create equivalent absorption surfaces. For this purpose, open shelves with book or folders as well as carpets, pictures, plants and curtains are suitable. Not always a lot of money must be invested for better acoustics!
Sound absorbers of class A are not always the best solution because often the materials have this effect only in very specific frequency ranges and therefore could be expensive and worthless for you. If you have enough surfaces to form absorption then it is often better to use larger areas with less effective material than smaller areas with highly effective material because consistent acoustics are also very important to the perception.