LUMINATORE® ARCHITECTURE
NO ROOM CONCEPT WITHOUT A LUMINATORE® LIGHT CONCEPT
Light not only brings rooms to life, but also changes them depending on the chosen lighting concept. Thus, there is a lighting concept in every room concept. Together with you, we create gleaming results using modern light control systems, so that you always have an economical and contemporary lighting concept ready for your individual implementation.
EYE-CATCHER
OUR LED LIGHT FRAMES ENSURE ATTENTION
The Luminatore® room dividers with LED lighting, wall pictures, light wall systems and ceiling pictures are real eye-catchers. We provide attention! Customized illuminated pictures, whether as a simple stele, room divider or light column. There are many fields of application for appealing designs, which brilliantly back-light your message.
Mobile and flexible LED displays and light boxes are in demand. Ideal for hotels, medical practices, shopping experiences, store fronts and special brand presentations - our high-quality and modular light frames are always a bright spot and instantly installed.
Always the latest technology, the advantages are obvious. We develop and test all our components ourselves and coordinate them at 100%. Luminatore® LED lighting systems usually save up to 80% of conventional energy costs for comparable products. So it's not just about the acquisition costs, but also about the performance and efficiency of the LED lighting system in constant use. The purchase of the wrong product can have a very negative effect at the long end - with professional advice, we avoid unpleasant late effects for you.
BRISK IN OPERATION - THANKS TO PLUG & PLAY
Fast, simple and intuitive, our HIGH POWER LED modules and our HIGH-PERFORMANCE modules can be put together in order to combine for a homogeneous illumination. Minimize effort and logistics costs.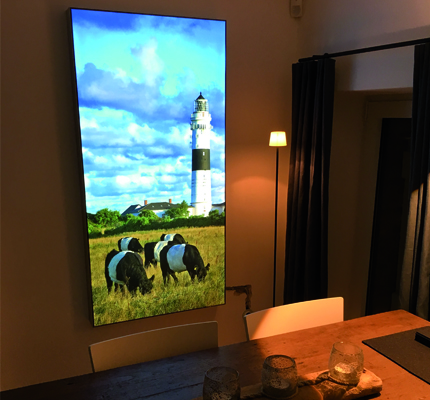 UNLIMITED POSSIBILITIES
Make small rooms bigger, create any mood and have a positive influence on the spatial effect. From practice room, restaurant, rehabilitation centre, clinic to art exhibition or private premises, we give you the opportunity to develop.
ENERGY COST SAVINGS
Luminatore® lighting systems generally save up to 80% of the conventional energy costs for comparable products and impress with their long service life and uncomplicated maintenance.
LUMINATORE® PRODUCTS
especially for your interior design