FAIR STANDS WITH SYSTEM
successful are those who present their projects imaginatively and with recognition value
LUMINATORE® fair stands and systems
FROM PROFESSIONALS FOR PROFESSIONALS
YOUR TICKET TO FIRST CUSTOMER CONTACT…
Benefit from well thought out fair systems and experience our uniquely coordinated stand concept. Whether headstand, corner stand, inline stand or block stand - with the Luminatore® stand modules in the desired size, you can work flexibly, creatively, modularly and above all sustainably.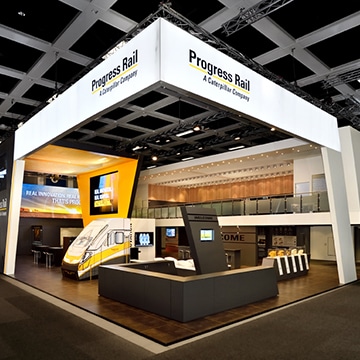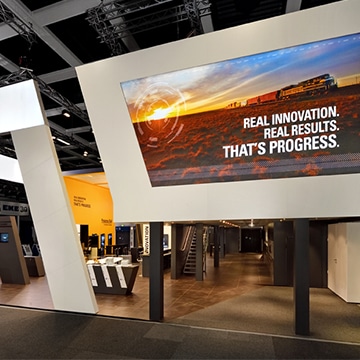 INDIVIDUAL CONSTRUCTION enables any company to differentiate itself from its competitors through its own corporate identity. Brands are valuable - therefore, an individual stand is one of the most important and efficient marketing instruments. We give your ideas a format, translate your brand messages into three dimensions and bring your visions to life.
HIGHEST PERFORMANCE AND PRECISELY COMPLETED
The Lightmaster Professional profile series scores with limitless variety and enormous quality, which are tough and still look like the first time, even after the nth assembly. Graphic changes within minutes and without tools thanks to our tried-and-trusted tensioning technology, long-lasting system components and our own LED lighting systems with a durability of up to 50,000 HOURS speak for themselves.
The statically high-quality finish of our Lightmaster Professional aluminium profiles also enables FREE-STANDING OBJECT SIZES in unprecedented dimensions. The optimally designed frames allow completely new sizes and thus open the doors way to illuminated XXL exhibition walls which were difficult to achieve up to now.
Rely on competent planning in the in-house 3D animation, visualizations in advance as well as plug & play solutions and a functional connection technology which saves valuable working time on site and minimizes your effort.
We create temporary rooms! High-quality, sophisticated and expressive, for the meeting of people and brands.
EXAMPLE IMAGES OF STANDARD SOLUTIONS WITH LED BACKLIGHTING