MULTIMEDIA INTEGRATION
Maximize the display of your digital presentation with our high-quality multimedia mounting solution.
LUMINATORE® multimedia integrationen
MODERN AND INTERAKTIVE
ADVANCED, FLEXIBLE AND AN EYE-CATCHER AT ALL EVENTS
Already now and in the future, multimedia applications form the basis for a modern and attractive visitor experience and transform your stand into an interactive performance. In media technology, we offer you services that perfectly showcase your brand and your products and services. If desired, the illuminated walls by Luminatore® can also include your digital media, regardless of whether they are installed flush with the motif or just in front of it.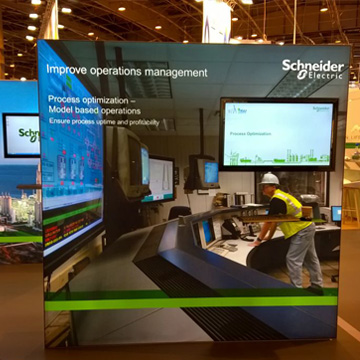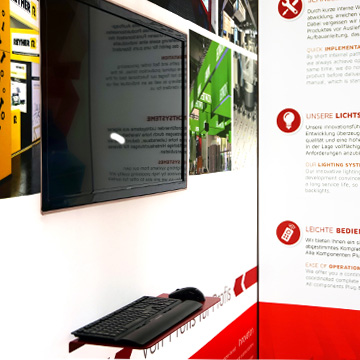 FASCINATE YOUR VISITORS THROUGH VISUAL HIGHLIGHTS
The digital expansion is the great challenge of our time, which has the highest relevance for every industry. The digital and the real world are increasingly merging.In the future, we will no longer only communicate online or offline, but in real and digital at the same time. Target groups need a completely new and specific approach. It can be said that merging both worlds creates an unprecedented opportunity for comanies to shape their event experiences of the future! We have already creatred these prerequisites and compatibility with our products today.
With the various visual communication options, you not only attract the attention of the visitors, but also deliver the key mesage of your performance playfully with digital images and explain your topics quickly and comprehensibly. Thus you can have conversations with interested visitors, while at the same time multimedia presentations with pictures and videos take places.
Our LED frame systems paired with our innovative TV fixture, will base your screens in any size. Our individually designed TV holder allows both an installation flush with the textile as well as an installation in front of the motif. The cables and the technology of the screens disappear behind your desired motif. We ensure that a homogeneous and even illumination is maintained.
Thus you receive the ideal supplement for your presentation stand: Set modern accents in the form of monitors, TVs, tablets or digital picture frames. Enhance your imagination with videos and moving images in multimedia format, with our practical and invisible monitor fixing!