ILLUMINATED CEILING AND WALL PICTURES
Illuminated pictures create a special atmosphere. Everywhere.
Wall and ceiling pictures with backlighting create positive spatial experiences
Whether it's an office, a doctor's practice, a restaurant, an art exhibition or in private rooms
What illuminated wall and ceiling pictures offer you:
Decorative wall and ceiling lights create a relaxed, comfortable atmosphere.
Personalize your spaces with wall and ceiling pictures in custom shapes, sizes, and designs.
Washable motif stretch fabrics for easy installation and tool-free motif changes.
Soothing, decorative motifs and optionally ASR-compliant lighting for medical facilities.
100% worry-free package including consultation, planning, delivery, and optional installation.
All advantages at a glance
Satisfaction guarantee
Fast delivery
Purchase on account
Custom manufacturing
Installation service
That's why illuminated wall and ceiling pictures from Luminatore®
Whether it's an office, a doctor's practice, a restaurant, an art exhibition or in private rooms, we give you the opportunity to always reinvent your interior design. Our quick-change systems with frameless optics can be fitted with new designs in just a few seconds and completely without tools. The textile stretch fabric technology with silicone piping makes it possible.
Make small rooms bigger with our backlit wall and ceiling pictures, create special moods and have a positive influence on people's perception. Of course, you can also combine wall and ceiling elements at any time, back them with our sound absorbers for better acoustics or order them in unlit versions, e.g. with incident light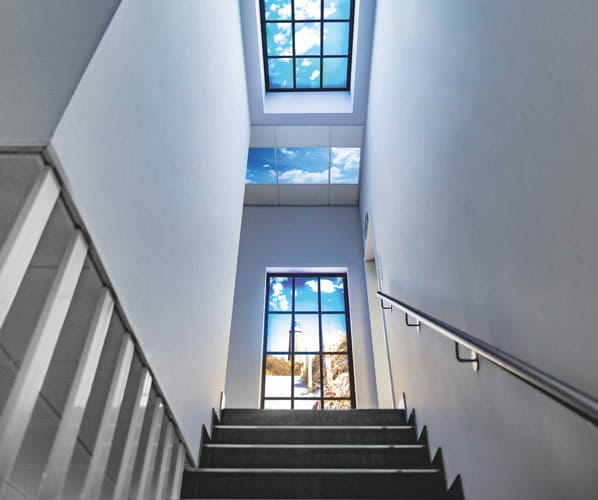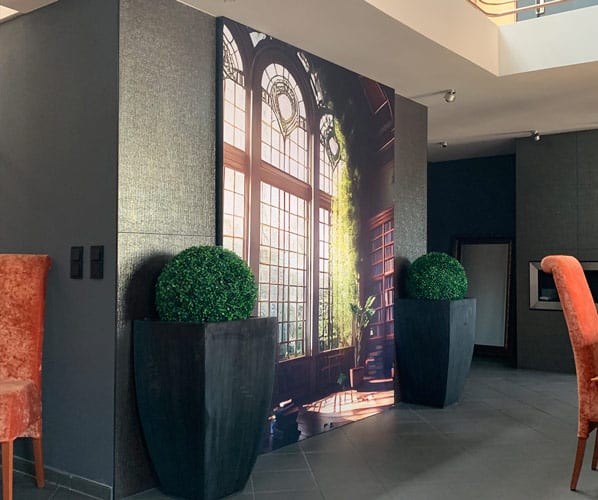 Illuminated pictures are the highlight of any room
In public as well as private rooms, illuminated wall pictures have their own special effect. Give the waiting room in the doctor's office, the spa and fitness area in the hotel or the guest room in the restaurant a new look. Create views that set the mood with backlit wall and ceiling pictures.
With our easy-to-use textile stretch frames, you can place your favourite motif on any surface. We manufacture on request and individually to measure. A quick-change system with a frameless look invites you to change and collect motifs. The change can be done without tools and in just a few steps. Admire a snow motif in winter, flowering meadows in summer and your company logo at events - with illuminated pictures you create atmosphere and direct the mood of the room.
Special Benefits of Our Illuminated Wall and Ceiling Pictures
uniform illumination
brillant textile print
every format available
quick motif change without tools
suitable for wall or ceiling mounting
absolutely odourless
B1 certified – flame retardant
washable at 30°C
OEKO-TEX-Standard 100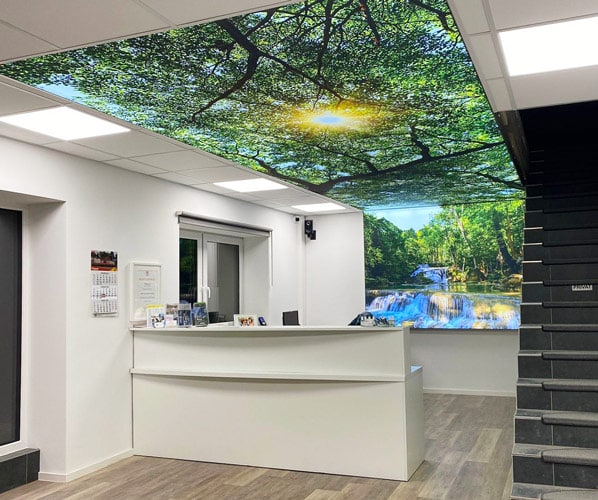 Feel-good atmosphere with illuminated ceiling pictures
Do you like to work under a blue sky or would you like to create a pleasant, relaxed atmosphere for your customers or patients? No problem. Our frame profiles are ideally suited for ceiling mounting due to their low dead weight and frameless appearance.
Possible areas of application for backlit ceiling pictures: Practice design, spa and fitness areas, hotel and gastronomy, hospitals, private rooms, offices, administration and many more.
Illuminated wall pictures, the sustainable plus in room design
More benefits behind visually appealing and timeless design. Illuminated pictures brighten up long corridors or dark rooms. They are not only attractive, they also save energy at times when there are fewer visitors. The room welcomes visitors in the evening and at night, illuminated with homogeneous but atmospheric lighting. The economical LEDs of the backlit murals hardly cause any costs.
Not only is the smart light source hidden behind the picture motif, it also conceals sound absorbers that significantly increase the listening pleasure in some rooms. Upgrade unattractive conversation corners to a favourite meeting place with Luminatore textile stretch frames and a combined acoustic element, or open up the sky above the property with a matching ceiling picture that will leave visitors in awe.
When it comes to selecting illuminated wall and ceiling pictures, we will support you from consultation to installation. Benefit from our many years of experience in printing and lighting technology for your unique interior design.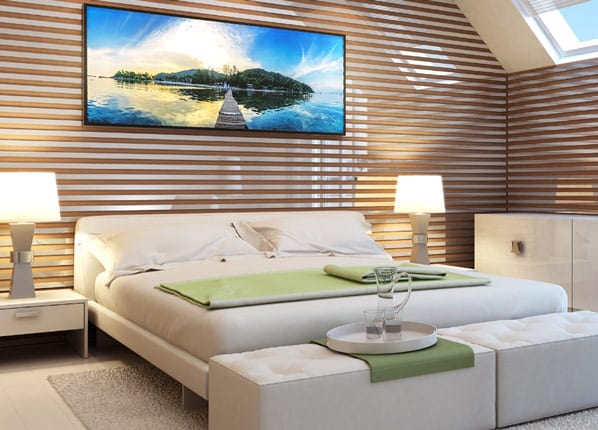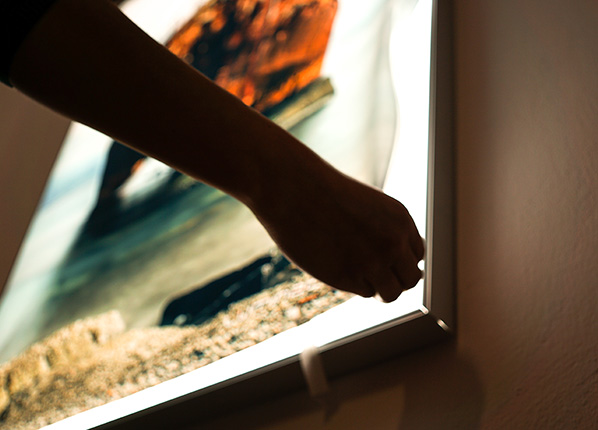 Exchangeable textile printing for more sustainability
A large selection of appealing motifs invites you to experience rooms in a new way. The textile stretch fabric technology with silicone piping in the frameless stretch frame allows a quick change of motifs for the backlit images. Tried and tested technology, timeless design and high-quality materials characterise all motifs and the low dead weight of the aluminium profiles is ideal for backlit wall and ceiling pictures.
On request, we can produce the motif of your choice from our own photographs or tailor it to your spatial conditions. Set accents with illuminated pictures in professional quality.
Find your favourite motif for your illuminated picture in our gallery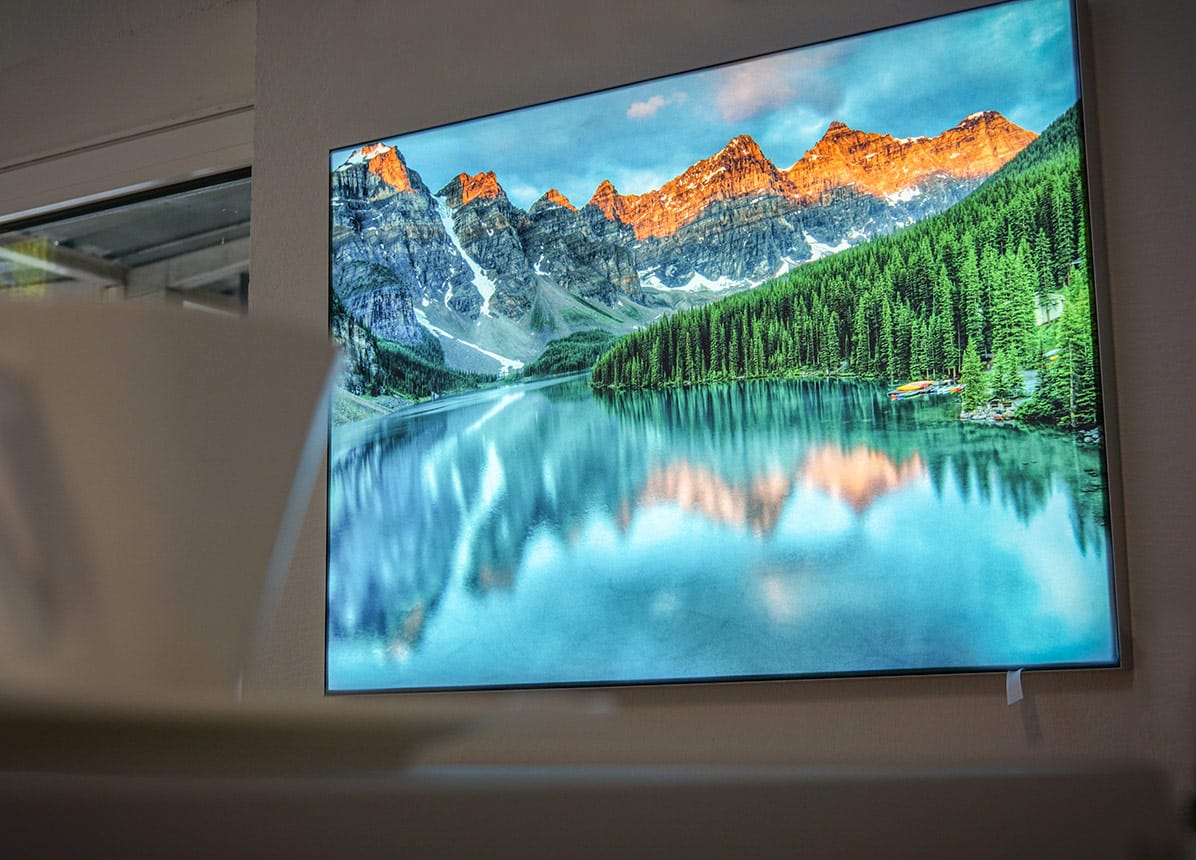 Illuminated pictures for eternity or a fresh look every day.
For over 50 years, we have been working on innovative solutions. Museums, exhibitions, trade shows, and point of sale (POS) locations benefit from high-quality printing and customized solutions perfectly tailored to your needs. It all starts with the design, printed on high-quality fabric using an eco-friendly printing process, delivering the best brilliance and 100% emission-free, climate-neutral results. Combined with our luminous fabric stretching frames, this print becomes a radiant beacon.
We will be happy to help you find a suitable motif for your illuminated wall or ceiling picture. Take a look around our theme-oriented motif gallery and find your personal motif.
Illuminated pictures in the online store
Now available for online ordering:
LED lighted pictures in standard sizes
Starting today, you can find LED lighted pictures in standard sizes of 120x80, 150x100 and 180x120 cm in our online store. You can either design your LED lighted picture in our online editor with your own motif, discover your favorite design in our themed collections, or choose your desired motif from the extensive Adobe Stock image database.
Visit our online store and create your LED lighted picture today!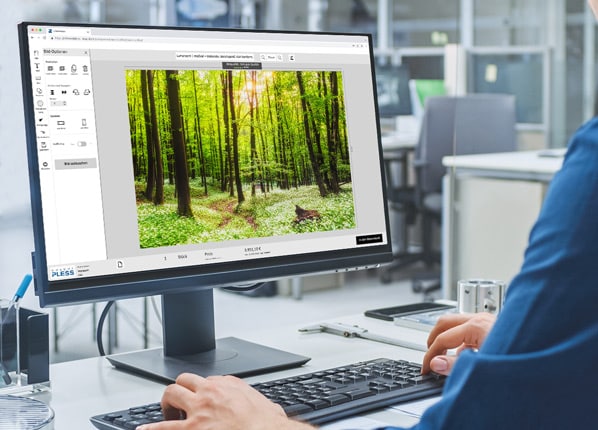 » 100% Worry-Free Package «
Are you looking for a customizable wall or ceiling lighting solution?
We manufacture illuminated pictures individually in size and equipment according to your needs. We coordinate with all relevant planning trades and provide technical documentation and visualizations of our products to ensure a smooth installation. Submit your non-binding inquiry and receive a personal and individual offer within one working day. Consultation, planning, delivery, and optional installation - the 100% worry-free package.
Quality from the light manufacturer
We love our product range,100% individuell handcraft each piece individually for our customers and source selected products and partners with the shortest supply chains anchored in Germany.A variety of different projects in the field of medical practice or hospital equipment have been successfully and sustainably implemented.
Worry-free even after the purchase
We permanently archive all relevant project documents, ensuring that we can always provide you with perfectly fitting new graphics and designs for your wall and ceiling lighting even after years. We make sure that your medical practice or facility shines and are just a phone call away.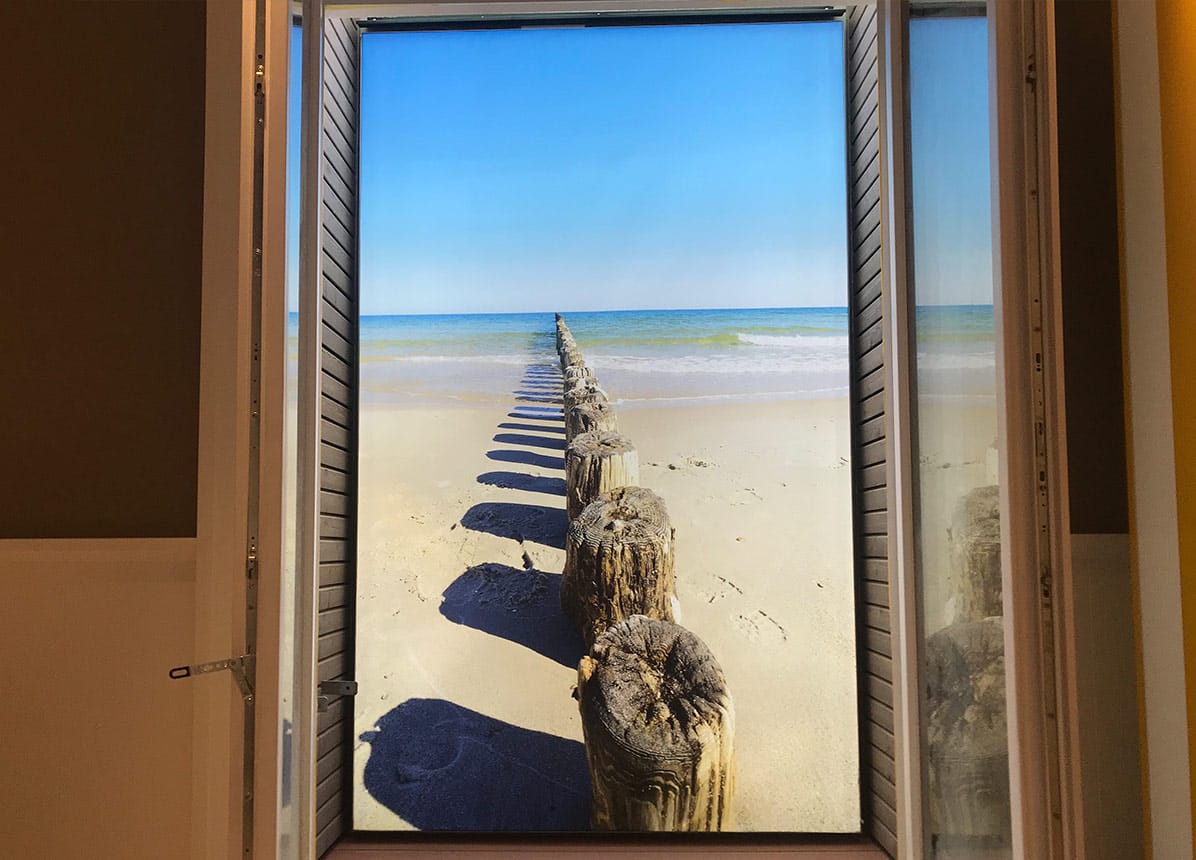 With the unique Lumaroom technology as the main light source
While the individually customizable wall and ceiling images from Luminatore® serve as atmospheric, indirect lighting, Lumaroom wall and ceiling images function as replacements for conventional standard light sources.

ASR-compliant upon request
The workplace regulations (ASR) determine, among other things, the lighting requirements for workstations, including medical practices and therapy facilities.
Lumaroom | medical meets all the requirements for illuminance, light color, and color rendering index and is a must-have for any workplace.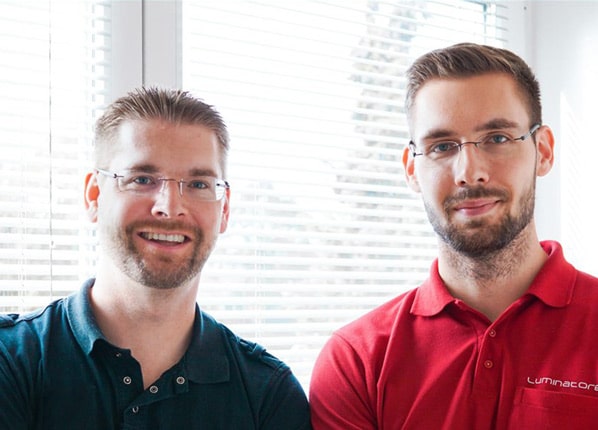 About us
For 7 years now, Luminatore® has been producing high-quality and individual lighting solutions for spatial well-being. In combination with the high-tech printing technology of Erler+Pless, we have successfully and sustainably implemented a wide range of projects in the field of medical and hospital equipment, based from our headquarters in Hamburg.
In addition to illuminated wall and ceiling images, we also offer solutions for trade shows, store design, and custom lighting design in your desired design and format – 100% handmade and crafted with love and passion for our products.
Do you have any questions for us?
You can find the answers you're looking for in our FAQ!
Product & Application
How can I change the motif of my illuminated picture?
You can easily replace the fabric prints of our wall and ceiling images to your liking. The proven groove and bead principle from trade show construction makes it possible:
Simply pull out the old fabric print from the bead groove and insert the flat bead of the new fabric print around the bead groove – and you're done. In just a few minutes, your picture will shine with a fresh motif in a new light.
How long does it take to print the illuminated wall and ceiling images?
After the approval of the design and configuration, we typically produce and ship your image within 10 business days.
Do I have to create the design and print data myself?
Each wall or ceiling image comes with a textile print featuring a compelling motif. Our motif gallery offers you a preselection of best-selling photos from various categories: landscapes, skies, plants, animals, abstracts, and more. If you haven't found something suitable there, we are happy to access relevant image databases such as Adobe Stock, Shutterstock, and Getty Images to search for a file that meets both the technical criteria and your personal taste.
If you still can't find what you're looking for in these databases or if you want more than a standard motif, take advantage of our professional expertise and use our graphic design service. We are happy to create a motif entirely according to your preferences.
Order and Shipping
How long does production take, and how quickly is the shipping?
After approval of the design and configuration, we typically produce and ship your image within 10 business days.
Do you deliver outside of Germany as well?
Yes, primarily we supply countries in the DACH region, but upon request, we can also ship to other countries.