CEILING BANNERS
They offer the opportunity not only to design a trade fair stand in a modern and stylish ways: 'They can also be an eye-catcher for the necessary long-distance effect over your sales areas.
LUMINATORE® ceiling banners and suspensions
EFFECTIVE PRESENTATION
DRAWING ATTENTION FROM THE DISTANCE WITH A CEILING RING
Put an expressive crown to your trade fair stand with a ceiling suspension, e.g., rectangular, triangular or U-shaped. Use ceiling banners as an eye-catcher in shop fitting or in the showroom. The areas of application are diverse. The sturdy construction, the LED frame from out Lightmaster Professional aluminium profiles, can be easily assembled and disassembled in just a few steps. The textile covering can be rolled up, stored and reused. Due to the special Keder finishing of all fabric prints, you can effortlessly order matching change graphics anytime.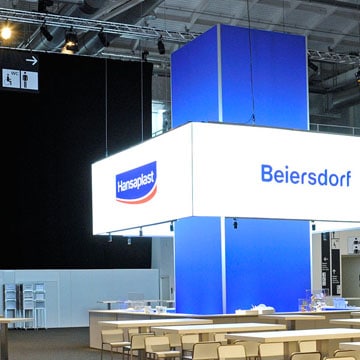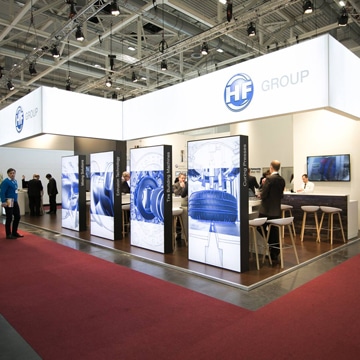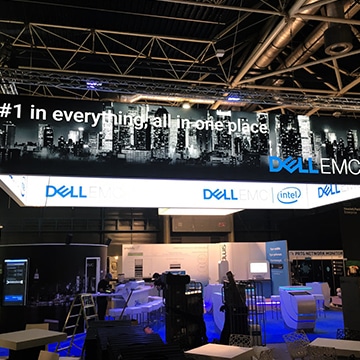 HIGHLIGHT AND EYE-CATCHER IN ONE
With this product, advertising messages can be staged in an expressive way: A ceiling suspension is a stylish eye-catcher and thus forms the ideal complement to your stand construction system but also as a shop-in-shop suspension to delineate retail spaces and to improve customer orientation. Because the first contact with hew customers and cooperation partners is the most important thing: With the help of an LED illuminated ceiling banner you stand out from the crown and visually expand your stand.
We deliver ceiling banners, depending on the stand space and local conditions, in your requested format. As a simple suspended light frame or completely equipped ceiling ring with a special construction. All of our systems are made of sturdy frames with our Luminatore® Lightmaster Professional aluminium profiles and equipped with our efficient and energy-saving
For mounting to trusses, a certified mounting kit for ceiling suspensions is supplied on request. Our ceiling suspension sets for sales rooms, exhibitions or trade fairs are universally applicable. They are suitable for different profile thicknesses and the wire rope is height-adjustable as needed. CONCLUSION: You can decide on-site how your LED frame system should hang.
EXAMPLE IMAGES OF VARIANTS OF CEILING SUSPENSIONS