LUMINATORE® ACOUSTICS
WE MAKE YOUR SPACES QUIET.
Noise is unhealthy. We take care of peace!
Do you have problems with the acoustics? Whether for trade fairs, open work spaces, hotels, shopfitting, conference rooms or healthcare areas - we offer acoustic consulting services and sound-effective solutions for a wide variety of room situations - such as Acoustic pictures, partition walls, table tops and ceiling sails.
Elegant design. Changed intelligibility.
In many objects, modern architecture shapes a puristic design with smooth, clear and hard structures made of glass, concrete and metal. Acoustic perception often suffers severely. This problem pervades all areas, from open-plan offices to private homes.
poor acoustics. Far-reaching consequences.
Human hearing is one of our most sensitive organs. Nevertheless, it is a widespread phenomenon that poor, poor room acoustics are endured by many people for a very long time, in contrast to inconsistent temperature or poor lighting. This has effects - not only on communication, concentration and work effectiveness, but especially on well-being and health.
New work. New requirements.
The world of work is changing rapidly with increasing digitalization and a greater awareness of work-life balance. The design of a pleasant working environment is of particular importance. In the past, functionality and ergonomics were in the foreground, but today it is individuality, sustainability, design, emotionality and a feel-good atmosphere. It is important to do the balancing act in a holistic interior design, to create open, creative and communicative spatial structures and at the same time to offer quiet retreats for concentrated work.
Helpful and sustainable. Sound-absorbing acoustic images.
Is it too loud in the office or at home? Then we take care of rest. We offer acoustic pictures, plant walls and moss pictures for various frequency ranges and wavelengths, which can be used in conjunction with our frame systems. Of course, we can also provide you with a wide variety of textile acoustic elements in the color of your choice.
Unique acoustic material. Also for applications that can be illuminated.
The acoustic fleeces we use have outstanding properties: Essentially, all of our sound absorbers are made from high-quality PET recycling material. The pure white, dimensionally stable material of the nonwovens is 100% recyclable, is pressed in water vapor and has a technically highly effective, very filigree fiber structure. This condition makes it possible for light to penetrate through the structure and we can offer you an illuminated frame system despite the absorber plates installed in the frame.
Optimal acoustics. Perfect working and living conditions.
With our acoustic products, we provide the right acoustics in your rooms and thereby create relaxing, motivating and highly effective environments for your employees, customers, patients or for you at home in private. Click here for more info.
Listen carefully. Professional advice.
Would you like a qualified acoustic analysis? We offer the complete spectrum of acoustic consulting services individually tailored to your situation.

Initial telephone consultation
Consideration of the room situation and advice on site
Sound measurement in your rooms by certified workplace equipment including recommended measures
Detailed expert opinion by an expert for noise immissions, building and room acoustics including before / after documentation and concrete recommendations for measures
Our questions:
In a first telephone conversation, we specifically ask the right questions. They give us initial insights into speech intelligibility, reverberation time, volume and sound absorption in your premises.
What kind of noise is distracting in your environment?
Is this sound a muffled deep sound or a shrill high one?
How far is the distance that the noise can be heard?
When you clap your hands, is there a kind of echo or reverberation?
What is the space mainly used for?
How is the room furnished and furnished?
Is the room in an old building or in a new modern building?
Is it permanently too loud in the room?
Acoustic analysis. On-site measurement.
In the second step, we will be happy to take a look at your rooms and discuss with you the possible further course of action.
Or you can commission us with a sound analysis on site. A certified workplace fitter carries out the sound measurement, documents the measured values ​​and makes a recommendation for action.
If you need a professional noise report, e.g. for the exact representation of the norm compliance of workplace situations, that is also not a problem for us. An expert for noise immissions, building and room acoustics will then carry out measurements, write a detailed before / after documentation and recommend concrete measures.
Taking your individual design preferences into account, we will then develop a concept that is perfectly tailored to your acoustic requirements.
Tips and tricks for improved acoustics
It helps to furnish rooms and thus create equivalent absorption areas. For this, e.g. open shelves for books and files, seating, carpets, wall and ceiling pictures, plants and curtains.
Pssssssst! Incidentally, class A sound absorbers are not always the best solution. Often, the materials only have this effect in very special frequency ranges, which you do not have and which are then expensive and worthless for you.
FAQ acoustics
Reverberation time
It simply means the amount of time it takes for a sound event to become inaudible. Depending on the type of room and room function, the reverberation time is desired in very different ways (e.g. 4-8 seconds in the church / 1.5 seconds in the concert hall / 0.5 seconds in the office). The reverberation time represents the room's acoustic business card. It can be used to quickly and objectively read the acoustic quality of a room. Complaints about poor acoustics are usually linked to inadequate values ​​for the reverberation time, even if, conversely, an optimal reverberation time does not automatically guarantee good room acoustic conditions.
Speech intelligibility
When planning office space, speech intelligibility plays an important role. Employees in open work spaces often feel disturbed by conversations between colleagues or on the phone. The task of room acoustic planning is then to reduce speech intelligibility. On the other hand, speech intelligibility in conference rooms and auditoriums is often too low without targeted optimization. Even with the same reverberation time in different rooms, there can be a very different degree of speech intelligibility. In general, however, the following applies: the shorter the reverberation time, the better the speech intelligibility. Insofar as speech intelligibility is not impaired by strong background noises or other disturbing sounds, poor speech intelligibility indicates that the reverberation time is too long.
Poor speech intelligibility is often compensated for by raising the speaking voice, which in total leads to further acoustic disturbances.
Sound absorption
Sound absorption is defined as the property of a material, impinging sound e.g. into another form of energy - e.g. B. heat or kinetic energy - to convert and thus "swallow" the sound. If you look at a furnished room with different surfaces, you can assign a sound absorption level to each material (e.g. carpet, plaster, acoustic ceiling, curtains, window, shelf surface, etc.) and calculate its equivalent sound absorption surface by multiplying it with the existing surface.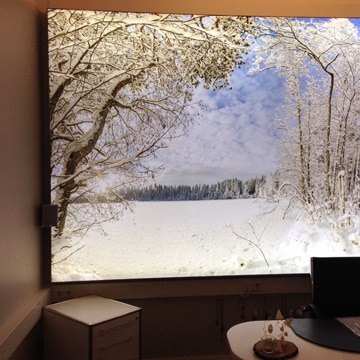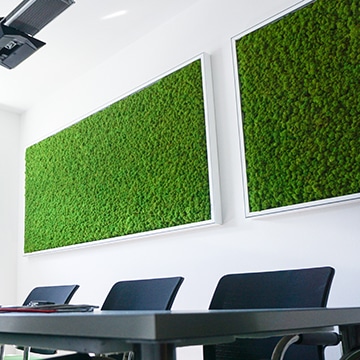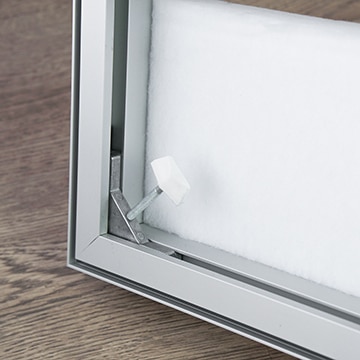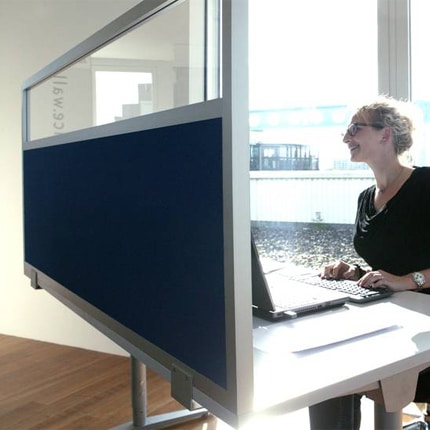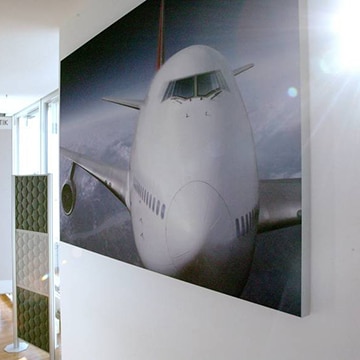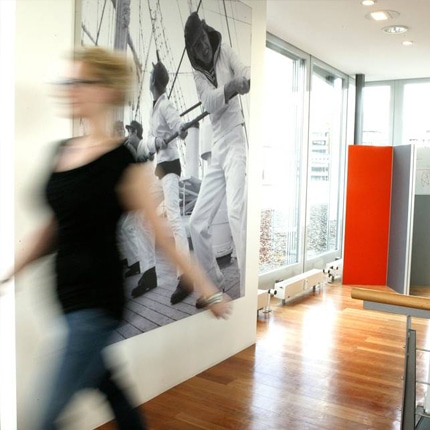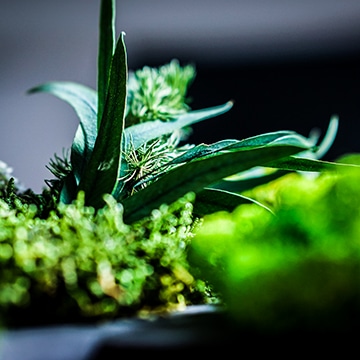 LUMINATORE® PRODUCTS
for acoustics