LUMINATORE® ACOUSTICS
THE HUMAN HEARING IS ONE OF THE MOST SENSITIVE ORGANS
Be it open-plan office, conference room, wellness oasis or private apartments, the modern architecture creates many flat, clear and hard structures made of glass, concrete and metal. The acoustics in rooms, unlike lack of lighting or inconsistent temperature, are long endured in a negative way.
HERE WE FIND A REMEDY...
and combine brilliant wall pictures, ceiling paintings or textile architectural elements with sound absorbers for various frequency ranges and wavelengths. The great thing is, these sound-absorbing element can also be used in conjunction with our LED light frames, creating a relaxing, motivating and highly effective environment for your employees, customers or your own home.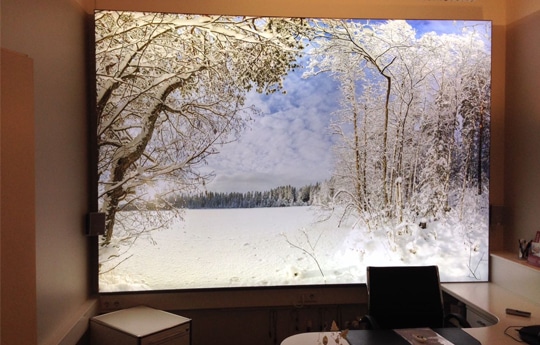 PROFESSIONAL ADVICE AND ANALYSIS
WE KNOW HOW AND WHY!
Although good absorption values of the materials are often attested by VDE or DIN standards, their effectiveness can again be massively reduced in connection with incorporation or modification of the materials. Maybe you have already selected a good material, but for the completely wrong frequency and are now dissatisfied with the result? To prevent this from happening, our employees ask you the right questions. If the telephone consultation is not sufficient, we will gladly do an analysis at your location and document our work through comprehensible measured values on the premises.
PICTURE AND SOUND
a harmonious overall picture
How important the interaction is, already becomes clear in front of the TV at home - do you like scratchy sounds or too loud noises that do not match the picture? The Luminatore® products combine high-quality LED light walls with highly effective sound absorbers, creating a perfect symbiosis of the pleasant and the useful. This creates a good environmental feeling and has a positive influence on the people who reside in these rooms.
CUSTOM-MADE ACOUSTIC CONTROL
Our acoustic pictures reduce the noise and thus suppress the reverb effect. The Luminatore® acoustic LED frame systems offer the possibility to to control the acoustic solution tailored to your needs and thereby optimize the surround sound.
THERE IS NO FASTER AND MORE INDIVIDUAL WAY
The material processing with a sewn-on Keder that disappears into the prefabricated groove of our frame system creates the impression of a frameless image. With the help of the attached flap, motif changes can be carried tout easily, quickly and without tools.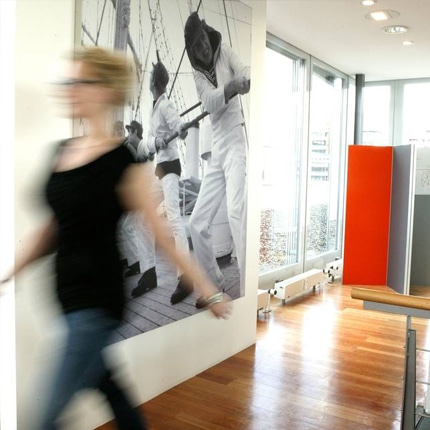 SIMPLE MOUNTING WITH GREAT EFFECT
Our frame systems can be installed on ceilings, walls, free-standing and suspended. With just a few simple steps, the aluminium profiles are put together, fastened ans the lighting system is connected to the power supply. This way, your LED light frame gleams at your desired location.