PREMIUM DIGITAL PRINTING
Re-experience textile printing in breathtaking quality & variety.
LUMINATORE® premium prints on textile
OUR RANGE IN PREMIUM TEXTILE PRINTING
Our textile prints on selected Lumitex material make fading colours, annoying reliefs and fuzzy details forgotten. Experience the highest possible quality with a natural character in environmentally friendly and sustainable printing processes.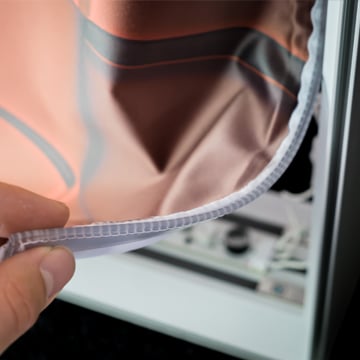 CUSTOM TEXTILE PRINTING FROM XS TO XXL...
We realise your printing from very small up to maximum size, which can be implemented according to the current state of the art. We are happy to advise you personally on suitable materials and printing processes for your advertising project.
Through continuous testing of specific raw materials for our Lumitex product family, we always make sure that all fabric systems are provided with the most suitable textiles. Especially in the field of interior design and in indoor installations, the selection of the right materials is essential. Because the material has a decisive influence on the final result and thus on the optical quality.
At Luminatore® you get premium textile and printing quality on oil and water basis without chemical additives. Our fabrics are rolled up, easy to store and washable in any standard washing machine. This guarantees long durability and a long service life with top quality with up to 1400dpi.
Of course, we also meet different material requirements, if in individual cases, UV or latex prints are to be used. In addition to gentle textile printing for our own Luminatore® Lightmaster Professional systems, we can also offer chemical digital printing on tarpaulin, mesh photo wallpaper and panels.
BRILLIANT DOWN TO THE LAST DETAIL
Of what avail is it if you have created a layout yourself, but can not output the data for a faultless printing process? That's what we take care of We specialise in customising your print data in a process-oriented way and output it process-optimized for different media.
When it comes to further processing, we have our finger on the pulse of the time, too, and thus enable maximum effectiveness in the production process. Quality that will convince you is promised. All prints are still made by hand for Luminatore® for the respective application. For our textile prints, we rely on the proven PVC Keder system because this can be clamped into the Luminatore® profile systems quickly and tool-free.
High quality controls and laser cutting guarantee a perfect fit of your textile prints. Latest technology paried with experienced craftsmanship. The result will convince even you.
SPECIAL PROCESSING
Especially in the field of textile coverings for our light frame systems often special processings are necessary. If, for example, you would like to make a circle or a rhombus or if you want to integrate a screen evenly into your light wall, we will also fit the fabrics for you. Fits like a glove!
Oh by the way, did you know that all Luminatore® profile series have a special groove with internal teeth, which makes it possible to adjust the fabrics later? Profile and textile by Luminatore® - a perfect combination!