LED LIGHT SYSTEMS
The right light system for every application.
Despite their high luminosity, our high-quality LED modules developed by us consume little electricity and have a long service life. The Luminatore® LED HIGH POWER and LED HIGH LUMEN MODULE as well as our RGB (W) modules are the optimal product components for homogeneous illumination of your frame system.
We offer:
LED modules in daylight quality, also dimmable and controllable on request
RGB (W) in the standard color space
variable control of lighting with remote control, touch panel or app
2-year guarantee on all LED modules, even with continuous use (except mechanical damage and overvoltage)
variable number of lumens and lighting planning possible for special projects
certified components and transformers
Premium power supplies (plug and play)
PCB layout based on glass fiber laminate or aluminum core
Strain relief for the plug connections for high loads during assembly and dismantling
robust plug connections of the modules
LED HIGH POWER MODULE / black or white
The LED HIGH POWER MODULE impresses with its simple functionality and excellent durability, making it ideal for simple applications in the field of display, trade fair or exhibition construction.
Light at a top price-performance ratio
If you want constant light at fair prices, choose our HIGH POWER system and achieve modular work via plug-and-play right into the socket.
Time is money
Especially in the frequent reconstruction and construction, time-optimized work is of the utmost importance. With our systems you minimize your workload as well as your logistics and assembly costs. In particular, the assembly time of the HIGH POWER MODULE on our profile series can be reduced by using our Fast-Lock PCB clip by 50% compared to conventional slot nut assembly. This is how you can equip large illuminated walls and profile sections in record time! With 3 and 6 modules, lighting is provided right down to the last corner - suitable for every frame size.
The HIGH POWER series offers two lighting systems for all types of use in the high-quality construction of illuminated surfaces, whether narrow or deep, small or large, and adapts optimally to your wishes and requirements.
The service life of a module is approximately 50,000 hours +. You can find technical data on our HIGH POWER data sheet.
LED HIGH LUMEN MODULE
With our LED HIGH LUMEN MODULES you can perfectly realize light distances well over 3 m with lateral radiation. The specially developed boards have twice the performance compared to our HIGH POWER MODULES. They have been specially designed for the backlighting of textile stretch fabrics.
You can rely on 100% quality and a harmonious interplay of all components of our light walls and light box products. The stepless dimming allows adaptation to critical print motifs at any time and saves energy.
The durability is approx. 50,000 hours +, the power consumption is very economical (18 watts per module at approx. 2050 lm / measured according to optics).
advantages:
flexible advice and application
short delivery times
high quality
long-term availability
Compatibility and adaptability
Modularity
Light stretches of 4 m and more with lateral irradiation
Technical data can be found on our HIGH LUMEN data sheet.
Something out of line?
At Luminatore® we can also solve customer-specific requirements on a project basis and integrate complex controls into our light walls and light ceilings. The special equipment with light colors according to your specifications is also possible for us at short notice. Please contact us as early as the planning phase.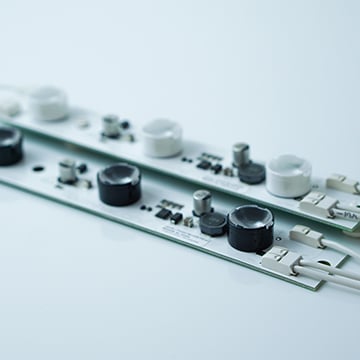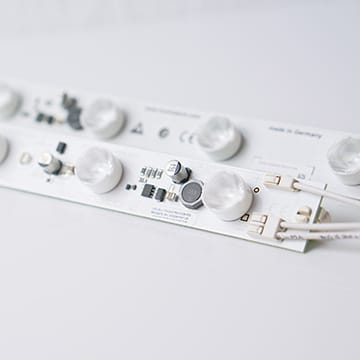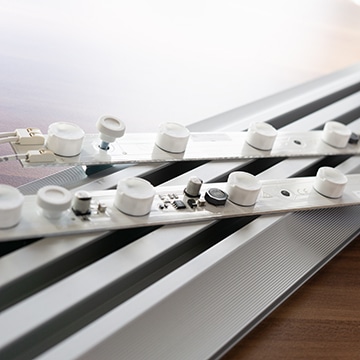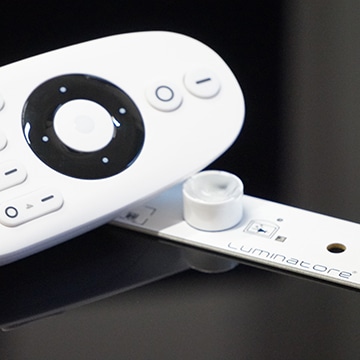 RGB(W) project applications
Stylish color accents.
Spectacular colors.
In addition to image and music, people's color perception is one of the best methods for generating a subconscious response. This speech can have many benefits and should, if possible, put the consumer in a positive mood. If this succeeds, a pleasant and lasting communication will be ensured, which will also convince your customers, patients or guests.
If you have the possibility to choose from at least 256 shades of color, the right light is guaranteed for every place and every application. The current and modern control components also allow you to mix the colors yourself - or to program various lighting effects that you can use individually. We are always at your side for project planning.
Our RGB (W) boards - one of the best options for emotions
Our diverse options are convincing, among other things, with uncompromisingly good and fluid color effects - from simple color changes to cross-fading - as well as high compatibility with common lighting control systems. Optimal conditions for use in shop, trade fair and museum construction as well as in the interior of medical practices or private properties We always manufacture according to your wishes and dimensions.
A very good lighting result is given for all common trade fair profiles from a construction depth of 100mm, as well as for various interior and light architecture applications. In addition to simple color control, which is used as standard for various circuit boards, the LED modules can also be connected to many control systems provided by the customer.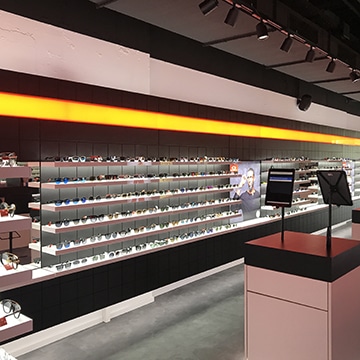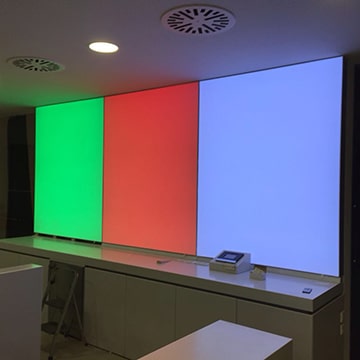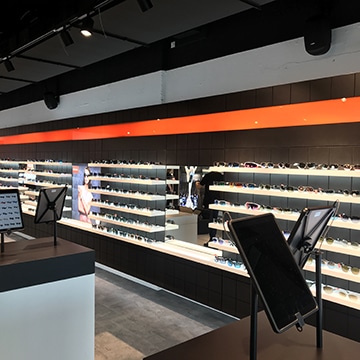 LED LIGHT SYSTEMS FOR WOODEN FRAMES
Outstanding performance in any environment
Maximize efficiency
The market for LED lighting, which is an alternative to halogen and incandescent lamps or fluorescent tubes for indoor and outdoor use, is already showing impressive growth. This growth is based on the advantages that LEDs offer compared to conventional forms of lighting in terms of suitability, combinability and efficiency, they provide more design options and are characterized by an exceptionally long service life. The upgrade is definitely worth it and is worth the money for every customer.
The thermal management
High operating temperatures are harmful! Our high-power LED modules deliver rich light at a very good price-performance ratio. However, the very powerful LEDs must be installed on thermally active materials and therefore cannot be installed without any air convection or cooling. So that you can still illuminate effectively in the area of ​​wooden buildings, our profile frames can also be used in existing wooden constructions and enable quick mounting of the LED modules, the mounting of the tensioning cloths and optimal cooling. If this approach is not possible due to the design requirements, we provide valuable planning tips for your next set-up and point out possible alternatives.
The Luminatore® LED special modules
We have already addressed the topic of thermal treatment above and are now showing our approaches and product differences. The Luminatore® LED boards have individual heat conductors for each LED in order to keep the core temperature stable and to increase the service life of the individual LEDs. These heat conductors quickly transfer the heat to our aluminum construction and ensure a functional thermal system. If there is now a requirement to do without an aluminum construction, heat dissipation must still be ensured. We would be happy to discuss project-related options with you.
The LED modules from Luminatore® run extremely efficiently and can therefore be installed in special constructions without our profiles if the right conditions are met. We would be happy to discuss the requirements with you and help with implementation.
The h-profile - the little helper for a top result
With our new h-profile we deliver an unbeatable price alternative to the aluminum constructions of the Lightmaster main profiles. The h-profile is particularly suitable for retrofitting on wood, stone or plastic materials, making it easy to retrofit textile stretch fabrics and backlight them with our LED modules. With the high-power LED modules from Luminatore® you get full flexibility and are not dependent on certain profile ranges, an unbeatable advantage to upgrade existing material in your warehouse.