System with vision
LUMINATORE® - Two brothers, one team, many ideas!.
Luminatore® is a trademark by Erler+Pless GmbH and is managed by Kim and Manuel Simmerlein. Two brothers who have successfully set up the company with a strong hands-on mentality, courage, visions, creativity and a high level of expertise. Together with their team, they strive to offer every customer innovative and tailored solutions for trade fair construction, event equipment and holistic interior design.
Due to the changing needs of customers and a creative, agile way of working, Luminatore continued to develop. From a production facility for LED light frames to an ideas and production workshop for profile frame systems, lighting and acoustic solutions. Individually and in combination, these three segments form endless possibilities for the careful and effective design of rooms, sales and event areas.
We never stop learning. Every order, every customer request opens up new perspectives and takes us further.
We work with you to find the perfect solution for you.
For eyes and ears. From person to person.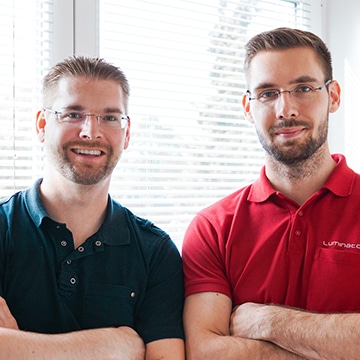 THE LUMINATORE® WORK-FLOW
WE SUPPORT YOU THROUGH ALL THE STEPS TO YOUR PERFECT LIGHT SYSTEM.

1
REQUEST
Exhibition stand, mural, counter ... The right solution for every ambience or room concept. The production takes place according to your exact information. Our special offer software ensures calculations in record time, let us convince you! We are fast and professional.

2
CONSULTING
Finding the perfect solution for every customer - that is our goal. Through our detailed advice, we develop the right product for your individual application. Together with you we will find a feasible way.

3
PRODUCTION
We constantly carry out tests and trial assemblies and learn from experience. A functional test of your product before delivery and assembly instructions that are tailored to your system are standard for us.

4
DELIVERY
To ensure that you get your goods on time, we always ship with TNT-Express as standard. This guarantees delivery on the next working day. We also offer direct trips for large projects and special buildings.

5
SUCCESS
Once purchased, our frame system scores with unlimited variety, enormous quality, sustainability and compatibility. Change our system as often and as much as you want. Foolproof motif changes within a few minutes, high-quality system components and our own LED lighting systems with long durability speak for themselves.
LUMINATORE® - FAST, CUSTOMER-ORIENTED, EFFICIENT!
Location
Bad Bramstedt
Tegelbarg 33
24576 Bad Bramstedt
Germany
THE LUMINATORE® CUSTOMER TEAM
Find the perfect mixture of technical knowledge and creative solutions for your light frame system today.
---
---