LIGHT WALL
Our LED light walls are modular in construction and dismantling, very versatile and above all combinable in your application.
LUMINATORE® light walls
SET HIGHLIGHTS!
GUARANTEED ATTENTION IN EVERY ENVIRONMENT
WIth LED light walls, even large formats can be easily realised. Whether as a stand module, partition or as an illuminated textile frame with wall mounting. The Luminatore® LED frame systems offer numerous possibilities for a gleaming performance.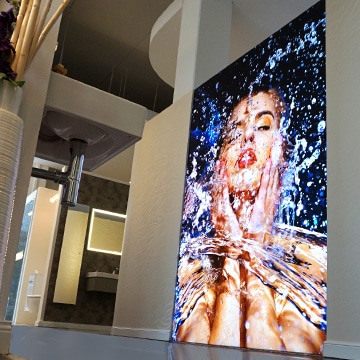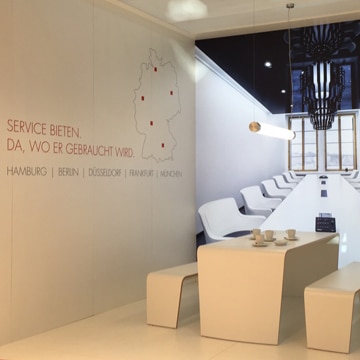 SINGLE OR DOUBLE-SIDED – ALWAYS THE BEST EFFECT
Light walls are suitable as an impressive XXL platform for your statements and ideas, not only for the fair and special corporate events, but also for your retail store or your showrooms.
...as a fair stand boundary
...as a shop-in-shop separation
Even in a shop window, our light wall system can be a lasting and effective eye-catcher. Permanent use is no problem because they are equipped with our energy-saving and durable LED modules.
In addition you can also use our LED light frame system in exhibition rooms. Put them next to or behind your products to allow your customers to immerse themselves in a product world with a matching theme. This option is ideally suited, for example, to furniture and car dealers, clothing stores and showrooms and many other areas of application.
THE FUTURE-ORIENTED LIGHT WALL
We use a professional 4C digital printing on textile as well as durable materials for the implementation. Talk to our competent account managers, we accompany your project from the beginning to the end. With regard to shape and size, there are hardly any limits to the LED light walls.
Future-oriented also means that we keep an eye on the environment. Therefore, we use LED modules for the illuminated motif which despite their high luminosity are very energy-efficient. Our aluminium profiles are not only light and sturdy, they are also extremely robust due to their special coating during repeated assembly and disassembly. And, as in the modular system, they can be combined with one another to make larger or smaller objects. So you always remain flexible in your light wall variations.
Your motif print will be produced on our sustainable substrate with oil- and water-based ink, so no chemical additives and no odours are released at the point of use. Due to their wrinkle-free properties, slight wrinkles disappear after clamping, so you can also store the prints and reuse them if necessary.
MEDIA INTEGRATION OR SHELF
We also allow the installation of other media such as displays or placement of storage areas for your products or information materials The motto of the hour is 'all things optional, nothing is a must'.
EXAMPLE IMAGES FOR VARIOUS LIGHT WALLS