ILLUMINATED CEILING AND WALL PICTURES
Wall and ceiling pictures with backlighting create positive spatial experiences
Illuminated pictures create a special atmosphere. Everywhere.
Whether in the office, doctor's office, restaurant, art exhibition or in private rooms, we give you the opportunity to always reinvent your interior. Our quick-change systems with frameless optics can be provided with new designs in a few seconds and completely without tools. The textile tensioning technology with silicone piping makes it possible. Make small rooms bigger with our wall and ceiling pictures, create special moods and have a positive influence on people's perception. Of course, you can also combine wall and ceiling elements with one another at any time, store them with our sound absorbers for better acoustics or in an unlit variant e.g. order with reflected light.
Feel-good atmosphere with illuminated ceiling pictures
Do you like to work under a blue sky or do you want to create a pleasant, relaxed atmosphere for your customers or patients? No problem. Thanks to their low weight and frameless appearance, our frame profiles are ideal for ceiling mounting.
Possible areas of application: Practice design, spa and fitness areas, hotel and catering, hospitals, private rooms, offices, administration
Special advantages:
homogeneous illumination
brilliant textile printing
any format available
quick motif change without tools
simple wall or ceiling mounting
Motif fabric is flame retardant (B1 certified)
absolutely odorless
washable at 30 degrees
Oekotex Standard 100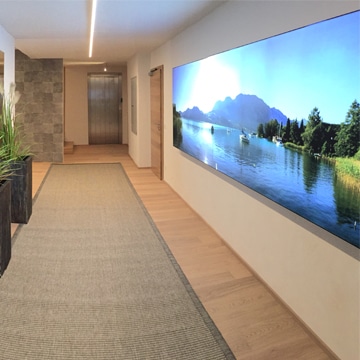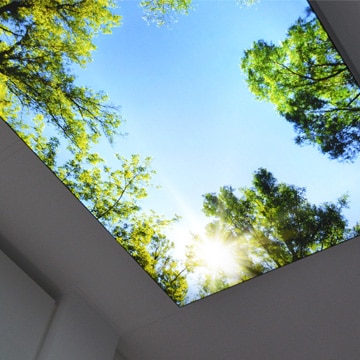 ---
Motif gallery
We would be happy to assist you in your search for a suitable motif.
Check out our themed motif gallery and find your personal motif.
---
Reference pictures for wall and ceiling pictures with LED lighting