ILLUMINATED CEILING AND WALL PICTURE
Let your premises shine in an atmospheric ambience.
LUMINATORE® illuminated ceiling and wall pictures
CREATE ROOM EXPERIENCES
WALL PICTURES WITH LED ILLUMINATION, SIMPLY STUNNING…
Experience room design in a whole new dimension with individual wall pictures by Luminatore®! Make small rooms bigger, create special moods and have a positive influence on the spatial perception of the people.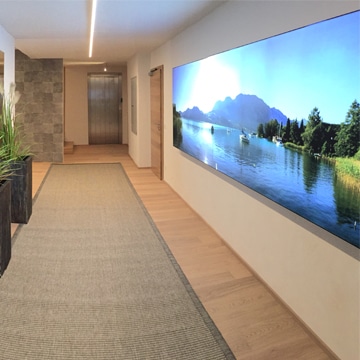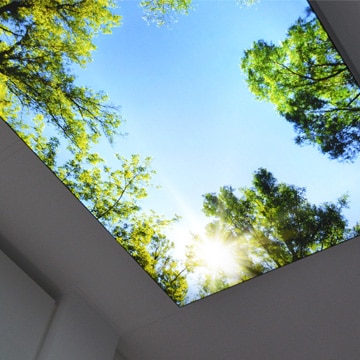 From practice room, restaurant or art exhibition to private rooms, we give you the opportunity to reinvent yourself. Our quick-change systems with frameless optics can be equipped with new designs in a few seconds and completely tool-free.
CEILING PICTURES WITH LED ILLUMINATION, UNLIMITED SENSE OF SPACE...
Our versatile frame profiles are equally excellent for ceiling mounting, so you can bring your design needs not only to the wall, but to the ceiling, too! You would like to have blue skies in every season or you would like to work under a gleaming tree crown? Thanks to the illuminated ceiling pictures from Luminatore® this is no problem, you can decorate your rooms according to your wishes.
THE COMBINATION IS WHAT MAKES THE DIFFERENCE... Of course, you can always combine wall and ceiling elements with each other, you will be amazed!
REFERENCE IMAGES FOR CEILING AND WALL PICTURES WITH LED LIGHTING