LIGHTBOX AND DISPLAY
Individual LED light boxes and light displays made to measure!
LED light boxes for Hamburg and the world
We started 6 years ago as a Hamburg manufacturer for premium LED light boxes. Since then we have continuously developed and perfected the individual components of our products.
Versatile, flexible illuminated frame systems
Application: shop and trade fair construction, POS, exhibitions and museums, hotel and catering, practice design, wellness areas, office design, private rooms

Installation: standing, suspended, mounted on a wall or ceiling

Shape: rectangular or individual special shapes

Format: from size 600 x 600 mm

Profile depth: 62mm, 100 mm, 120mm, 200 mm

Material: aluminum

Color: silver anodized or colored, with special painting of the inner frames for optimal light reflection and refraction

Textile printing: premium digital printing on textile, quick, tool-free graphic change possible thanks to tensioning technology

Lighting: can be illuminated on one side and on both sides

Stepless dimming enables you to adapt to any motif and any room situation. Thanks to its modular design, the light box frame system can be expanded and converted at any time. Whether as a simple stele, room divider, light column at events or illuminated brand messages in store advertising - our premium LED light boxes have made a name for themselves across the borders of Hamburg, nationally and internationally. When can we convince you?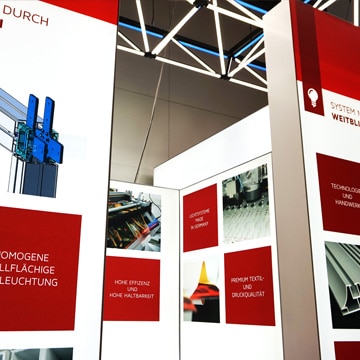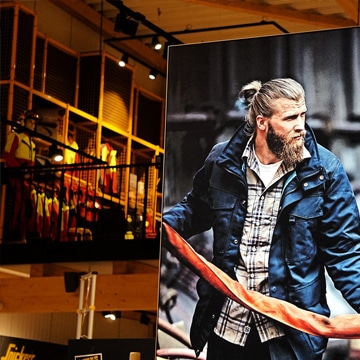 Example images for light boxes and displays